We all use email as a primary source of communication on a daily basis–for business and personal use. Every day our in-boxes are bombarded with SPAM and advertisements. Some of these emails are legitimate, but some are phishing emails. Phishing emails are designed to steal your password, bank information, credit card information and other personal data from your computer. How can you tell if a message is a scam or legitimate? Here are a few tips to follow in order to avoid having your computer hacked  through these types of emails.
Bad spelling and grammar – Hackers are great at coming up with ways to steal, but they aren't so great at proofreading. If the message contains a misspelled word or poor grammar, it may very well be a phishing email. A message sent from a professional organization normally is proofread; misspelled words and incorrect grammar are extremely rare. 
Embedded Email Links – If you ever see a link in your email message, instead of clicking on it, move your mouse over it, and you may be surprised by what you will find. These links may lead you to an executable file, an automated spyware/virus silent install, or a phishing site that will steal your access credentials. Hackers often use this type of technique to gain access to your financial accounts.  So, play close attention as to where the link will take you.
Here is a sample of an email containing a false link.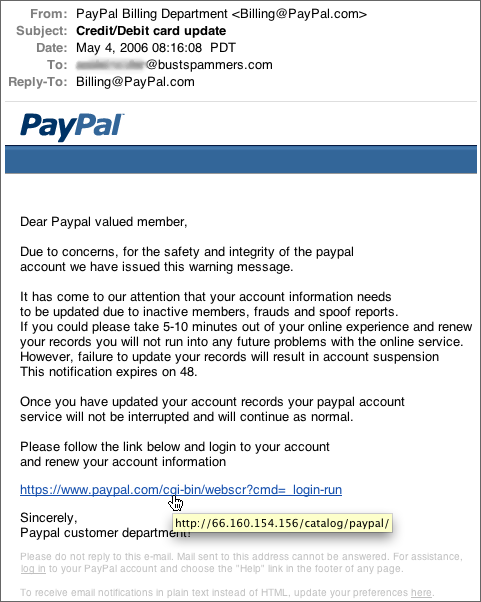 If you think that you have been hacked, change your password immediately, check your financial statement, and check against false charges.  You'll want to be sure that your computer is free of viruses and malware.  Check out our previous blog on preventing viruses and malware.